Painted by John Constable (1776-1837) Engraved by David Lucas (1802-1881) Re-published by Henry G. Bohn (1796-1884)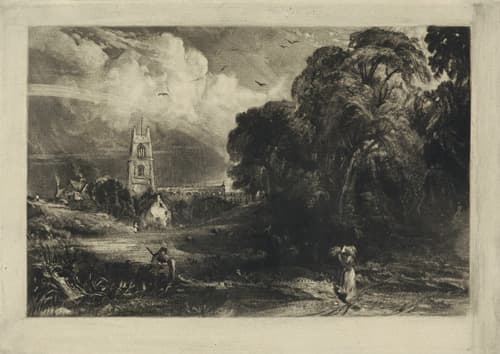 Biographies
John Constable was a landscape painter born at East Bergholt in Suffolk in 1776. He was, with Turner (q.v.) the major English landscape painter of the 19th century. Although he started exhibiting at the Royal Academy in 1802 it was not until 1819 that he was finally recognised by the Academy. In his own words the Suffolk countryside made him a painter and he was happiest at painting watermills and windy skies, a love he owes to his upbringing as the son of a miller. His success in France influenced the development of artistic movements such as the Barbizon School and Romantic artists such as Eugene Delacroix. He was the last great painter of the Dutch landscape tradition. A large collection of his works was donated to the V&A by his daughter and Christchurch Mansion in Ipswich Suffolk has the greatest number of his paintings outside London.
Having studied under Samuel Williams Reynolds (1773-1835), David Lucas became one of England's greatest nineteenth century mezzotint engravers and was eventually appointed 'Mezzotint Engraver to King George III'. Lucas engraved mainly after John Constable but also after John Hoppner (1758-1810), Jean- Baptiste Isabey (1767-1855) and Emile Vernet (1789 -1863) amongst others. Because of his skill as a mezzotint engraver he was very popular amongst French artists.
Henry G. Bohn was a publisher, born in London, the son of a German bookbinder who had settled in England in the previous century. In 1831 H. G. Bohn started as a dealer in rare books who became famous for his book auction sales. He is also remembered for important publications including 766 volumes dealing with history, science, classics, theology and archaeology published in 1846.
Statement
In 1829 Constable's wife having recently died the artist fell into periods of deep depression and his work changed, became darker and more moody. From then on until his death the artist devoted a lot of his time, energy and money into printmaking and publishing, activities which he had hardly considered in the past. In 1830 he thus began a series of mezzotint engravings in an answer to Turner's Liber Studiorum). These twenty-two engravings which were destined to illustrate the Chiaroscuro of Nature were engraved under Constable's close supervision by the young David Lucas. They were entitled Various Subjects of Landscape, Characteristic of English Scenery, from Pictures Painted by John Constable, R.A., but are today generally known as English Landscape. The series, based on earlier sketches, oil paintings and watercolours, was first issued in parts at irregular intervals between June 1830 and July 1832. A supplementary series was begun but not published in Constable's lifetime.Lucas also engraved several larger plates on his own initiative after Constable's death and some small plates intended as a supplement to the series.
English Landscape illustrated Constable's notion that chiaroscuro is ever present both in nature and art. It was 'the medium by which the grand and varied aspects of Landscape are displayed, both in the fields and on canvass'. Mezzotint engraving, a form of tonal engraving, is particularly suited to reproduce gradations and was much used in the 18th century to popularise the compositions of artists such as Gainsborough, Reynolds and Wright of Derby (q.v.). It was therefore the perfect medium for Constable to explore in order to translate his original work into another artistic language. Thanks to the skill of David Lucas Constable was thus able to create remarkable images containing both dramatic effects and subtle tonal variations.
Iconography
This is a view of Stoke-by-Nayland which lies on the north side of the River Stour, near East Bergholt and Dedham. Central to the picture is the church of Stoke-by-Nayland which according to Constable was one of the many remarkable Gothic churches found in East Anglia. The height of its tower commanding over the surrounding countryside was according to him most impressive. Constable drew and sketched Stoke-by-Nayland more than twenty times, including a drawing dated c.1829-35, now in Australia, where the artist introduces a double rainbow. Here in Lucas mezzotint there is only a single rainbow.
In the text attached to the engraving, Constable makes a lengthy comment about rainbows at different times of the day and year, especially about noon-rainbows which are rare. He expresses his admiration for rainbows in those terms: 'Nature, in all the varied aspects of her beauty, exhibits no feature lovelier nor any that awaken a more soothing reflection than the Rainbow, 'Mild arch of promise;'. At the same time, around 1830, Constable painted several other pictures including rainbows such as Salisbury Cathedral in 1831, Cottage at East Bergholt in 1833 and Stonehenge in 1835.
Bibliography
A History of the County of Essex, 'Stanway: Economic history', Vol. 10: Lexden Hundred (Part) including Dedham, Earls Colne and Wivenhoe, 2001
PHILIPS, Andrew, 'New clues to the history of Colchester's windmills', Essex County Standard, 7-07-1995
REYNOLDS, Graham, Catalogue Resume of the Constable Collection, Victoria & Albert Museum, London, UK, 1959
SHIRLEY, Andrew, The published Mezzotints of David Lucas after John Constable, Clarendon Press, Oxford, 1930.
TATE GALLERY, The Tate Gallery 1984-86: Illustrated Catalogue of Acquisitions Including Supplement to Catalogue of Acquisitions 1982-84, London, 1988
TURNER, Percy Moore, Centenary Memorial Exhibition of John Constable, Wildenstein Galleries, London, 1937
Evelyne Bell