Edward Bawden (1903-1989) Aesop's Fables: Peacock and Magpie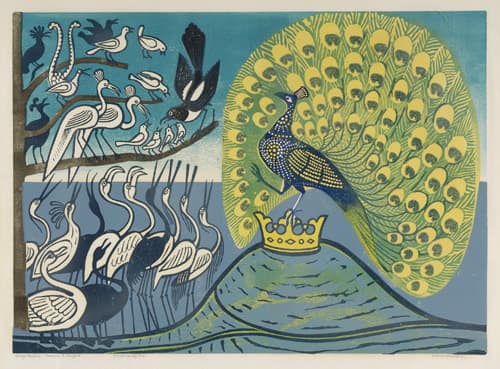 Biography
Edward Bawden was born in 1903 in Braintree, Essex. He was a painter, an illustrator and a graphic artist, who began his training under the artist Paul Nash in the 1920's. He studied at the Royal College of Art in London with Eric Ravilious, and was described by Paul Nash as 'an extraordinary outbreak of talent'. He began his career working one day a week for the Curwen Press, for which he would produce illustrations for companies such as London Transport, Westminster Bank and Twinning's. He was later discovered by the Stuart Advertising Agency, and it was during his time there that Bawden created his most innovative works for Fortnum and Mason and Imperial Airways. During the Second World War, Bawden served as one of the official war artists for Britain, and during this time made many watercolours recording the war in Iraq.
Bawden lived in Great Bardfield in Essex during the 1930's – 1970's and it was while living there that he became a member of the Great Bardfield Artists. This group of artists all shared a passion for figurative art although all diverse in their styles. After the death of his wife in 1970, Bawden moved to Saffron Waldon where he continued to work until his death in 1989.
Statement
This print belongs to a series which all depict Aesop's fables. Aesop was one of Bawden's favourite writers, and unlike any other illustrations of the fables who presented realistic animals in naturalistic backgrounds, Bawden didn't set any rules. He presented them in order to tell the story.
Bibliography
BACON, Caroline and McGREGOR, James, Catalogue of the Cecil Higgins Art Gallery Edward Bawden Archive, Trustees of the Cecil Higgins Art Gallery
BLISS, Douglas Percy, Edward Bawden, Pendomer Press, 1978
GILMOUR, Pat, Artists at Curwen, Tate Gallery, 1977
GREENWOOD, Jeremy, Edward Bawden: Editioned Prints. Wood Lea Press, 2005
HARLING, Robert, Edward Bawden, Art & Techniks, 1950
McKITTERICK, David, Introduction to the catalogue of the exhibition of 15 engravings at the Victoria & Albert Museum, 1988
McLEAN, Ruari, Book of Cuts, Scolar Press, 1978
RICHARDS, J.M., Edward Bawden. (Penguin Modern Painters Series) Penguin, 1946
YORKE, Malcolm, The Inward Laugh: Edward Bawden and His Circle, The Fleece Press, 2005
Evelyne Bell