Camille Pissarro (1830-1903) Young lady with a hat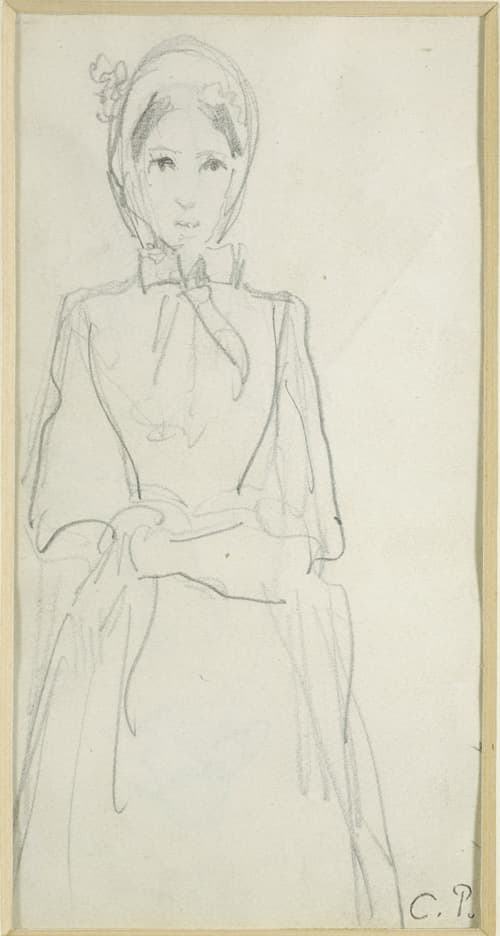 Camille Pissarro – Young lady with a hat
Statement
Camille Pissarro whose work comprises two thousands paintings and just as many prints and drawings was a prolific draughtsman whose drawings outnumbered by far those of his fellow Impressionist artists. In a letter to his nephew, Lucien Pissarro, written in 1883 the artist emphasized the importance of drawing: "It is only by drawing incessantly that one fine day you discover to your surprise that you have rendered something in true character." Pissarro's drawings evolved over time and if at the beginning he drew in a traditional manner, he later preferred to draw in the manner of the Barbizon School of painting, especially like Corot and Théodore Rousseau. From the 1880's Pissarro's attention focused more and more on figures, producing an increasing number of caricature studies. This series of drawings belong to that period. Here he chooses to depict a class of people which, at that time, many considered a vulgar choice for the subject of a painting. These caricatural drawings were probably drawn during one of his trips to Rouen, Dieppe or perhaps Gisors. He used these types of drawings many times in his market scenes.
Biography
Camille Pissarro was the only artist to have participated in all eight impressionist exhibitions in Paris (1874-1886). He later joined Monet in England to escape from the Franco-Prussian War. There he came under the influence of Turner and Constable and when back in France settled in Pontoise where there is now a museum dedicated to him.
Pissarro was a hard worker and a prolific artist who was respected and admired by many. His eldest son, Lucien Pissarro, himself an artist, also came to England where he married the daughter of Dr Ruth who sold the Minories to the Victor Batte-lay Trust.
Exhibitions
· The Minories Art Gallery, Colchester, 30 June to 3 October 1982 and October 2005
Bibliography
LLOYD, Christopher and BRETTELL, Richard, A catalogue of the drawings by Camille Pissarro in the Ashmolean Museum, Clarendon Press, Oxford, 1980
Links
Musée Camille Pissarro, 17 rue du château, Pontoise, France
http://www.arts-programme.com/musée/view/id/536
Evelyne Bell